CAUTION: Please don't try this at your home.
Why this at the very first thing you look up to here. Well, it's high time in the university as the annual LPU's Global Open Fest– YouthVibe 2020 is on the floors. It is a carnival of fun, games, technology, and cultural shows- a feast for the mind, senses and the soul.
With love flowing through mid-February all over the world, the university is celebrating it on its own. It's just the second day of the YouthVibe 2020 and it seems like nothing can be better than this. With a lot going on around all over at different parts of the university, the center of the attraction of day 2 was the Bike Stunt Show.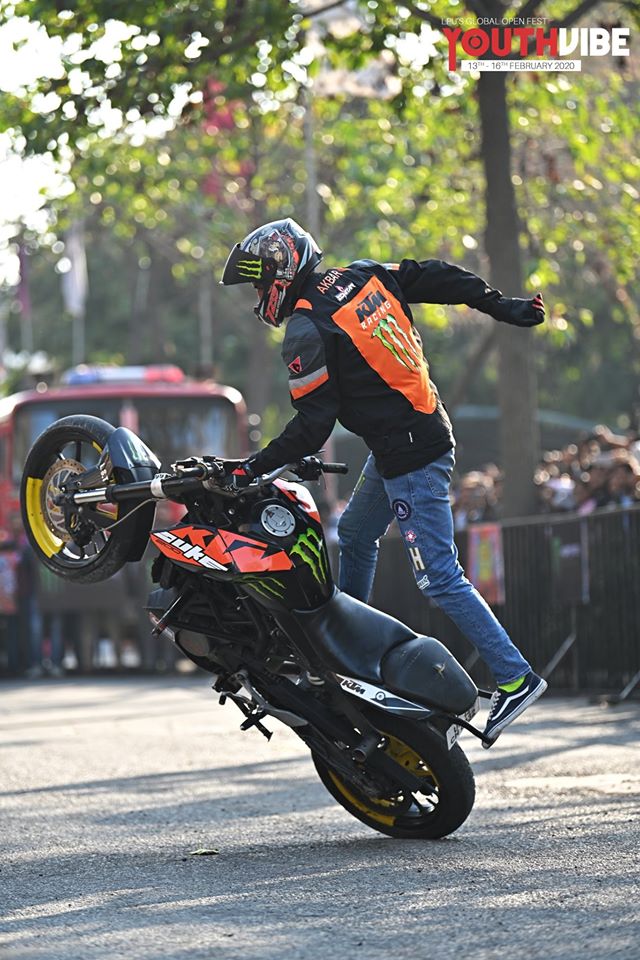 The show was completed by the same organizing body as the fest's i.e. DYC. Powered by Monsters energy drinks and KTM bikes. Students along with the professionals by KTM India, on the bikes, was something to witness as a thrilling experience. Commonly known as the BMX freestyle officially, the show today was quite something to bring chills on. The tinkling, clinking sound accompanied by the loud cheers of the students and faculty at the place, as the engine was on the air was a nail-biting moment.
Here are some of the glimpses from the live afternoon show: