CGM National Fertilizers (NFL) Nirlep Singh Rai inspired and motivated 600+ students of Bio-Sciences and Agriculture with his stories of the professional journey. He encouraged the students to "keep on striving to achieve the highest standards". His words were a great learning experience for the students. The interaction was vital in adding to the knowledge of students about industry's best practices and helped them link their in-class learnings with real life.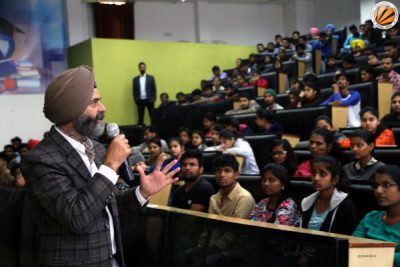 Advising LPU students, CGM Rai said: "Nowadays, with the misuse or improper usage of fertilizers, the farming lands are becoming nutrients less by having depleted soils. The crop-production is either lessening or becoming nutritionally deficient. This all is happening because farmers are not well awakened about the right use of fertilizers. For better crop production, proper guidance about fertilizers is very necessary."
Further informing students about all pros and cons of the fertilizers, CGM Rai advised students: "Being growing & awakened agriculturists and bio-scientists, I advise you all to rise to the occasion and guide farmers about the use of fertilizers in proper ways to have quick and efficient production."
Thus, CGM Rai guided LPU students about the judicious use of fertilizers, various agro products, improved-upon crop practices, scientific methods of cultivation, and latest techniques to help increase productivity in the fields. He also advised that various issues related to soil testing, soil health, and more should also be learnt in basic forms at this preliminary stage of studies.
NFL is a leading fertilizer manufacturing company in India. The company is the second largest producer of Ammonia in the country. Besides its ventures in the fertilizer industry, it has also undertaken corporate social responsibilities like children education, woman empowerment, health, and hygiene, etc.
From time to time, LPU organises guest lectures/seminars/interactive sessions with industry experts for its students. The same allows students to go beyond bookish knowledge and explore and create new realms in their fields of interest.