Aashray Crossroad Helping Hands, in association with World Peace Mission Goraya, organized a Peace Conference on Goodwill and Social Tolerance: The Need of Hour on 13th February in Block 14 of Lovely Professional University.
The lecture was about spreading Peace all around the world. The students were enlightened by the words of charismatic speakers like Mr. Saleem Sultani (Member, District Administration Peace Committee), Mr. Bishop Raj Masih (Member, District Administration Peace Committee) and Dr. Navjot Kaur (Principal, Lailpur Khalsa College for Women, Jalandhar).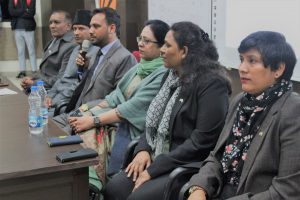 The students were really energetic and enthusiastic during the event. Their participation was appreciable and remarkable. The students were also encouraged to take an oath to "Live and Let Others Live Peacefully".
The event witnessed a huge crowd of good listeners and was successful in spreading the message of Peace among the students.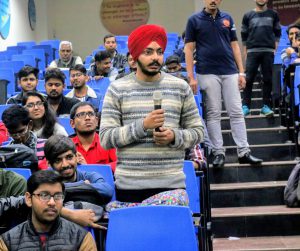 ABOUT THE ORGANIZATION: Aashray Crossroad Helping Hands is a student organization under the aegis of Division of Student Welfare, Lovely Professional University, which works to uplift the living standards of rural and urban communities and to fight against all social evils. Started by a group of friends from the Engineering Department, namely, Aniket Pandey, Sujeet Shukla and Rishabh Tiwari, the organization is now one year old and has more than 150 members all over the university. Aashray has the successfully conducted events like-
Give With Confidence, 15th Aug, 18
AIRC 19 Robotics Workshop, 8th Sept, 18
The Roadride, 30th Sept, 18
Spreading Happiness in Slums Around LPU, 6th Nov, 18
Spreading Happiness in Kanpur, Agra, Varanasi on Diwali, 6th Nov, 18
Be Someone's Santa on Christmas, 25th Dec,18
-Sakshi Aneja