"ISC's Women Conclave will be complete on seeing how science can be added for gender parity": shared Smriti Irani,Textiles Minister of India, at LPU
·  Occasion was on-going five-day 106th Indian Science Congress at Lovely Professional University
·  Launched the huge robotic structure 'Metal Magna' prepared out of scrap by LPU engineering students
·  Two-Day 8th WSC at ISC is slated to conclude on 6th January 2019
Textiles Minister of India Smriti Irani reached Lovely Professional University (LPU), today, where she inaugurated Women Science Congress (WSC)-2019 at Shanti Devi Mittal Auditorium of the University. Occasion was 3rd day of on-going five-day 106th Indian Science Congress at LPU Campus. Addressing a large number of women scientists, educationists, delegates and students, Minister Irani shared: "I have come to join this largest conclave only as a female and not as a Minister.  Like many renowned women-scientists of India and the world, more and more women should knock & open new doors to enter the world of science, engineering and creation." She asked all women to empower themselves and to step forward for abolishing gender gap.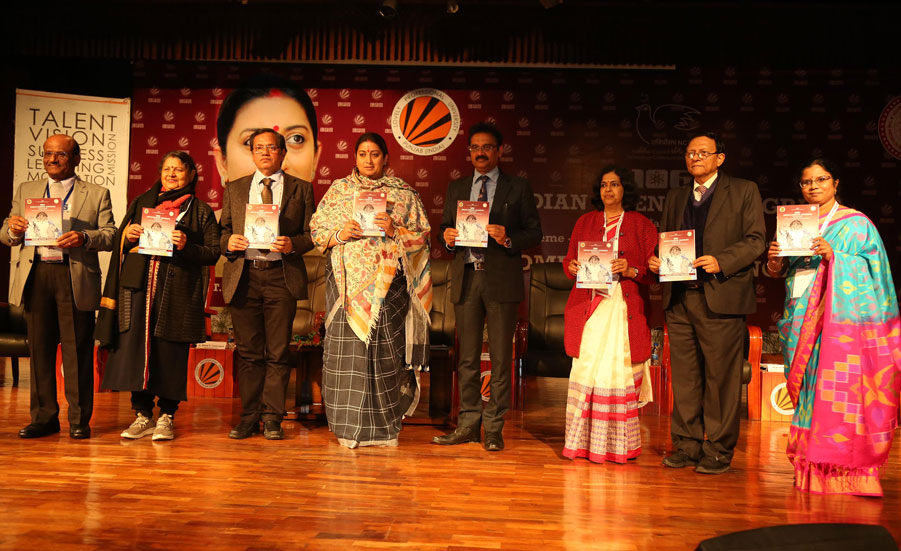 Lamenting that the percentage of female scientists among total scientists of the world is far less, Minister Irani shared that it counts female scientists as a largest minority. She upheld it as a great challenge to women. She invoked all at the WSC to end gender prejudices and to establish gender parity. Illustrating by taking example of providing a doll to daughter and mechanical devices like car to a son in their early days of life, Minister Irani asked all parents especially to bring an end to such biases. She also pondered on digital India, online education and more for exponential growth of girls.
Minister Irani also implored all at the helm of affairs of ISC to provide translated best of science journals and related science studies to the middle and high school level students, in their preferred languages,  so that they may cherish a love for science right from their early school days. She also congratulated LPU Chancellor Ashok Mittal and admired LPU Management for creating vibrancy at the campus. She also launched huge robotic structure 'Metal Magna' at main entrance to LPU to make the event memorable for all. Prepared out of scrap by LPU engineering students; the robot weighs up to 30 ton, is 30 feet tall, with light in eyes, and LED display. On this occasion WSC Souvenir was also released.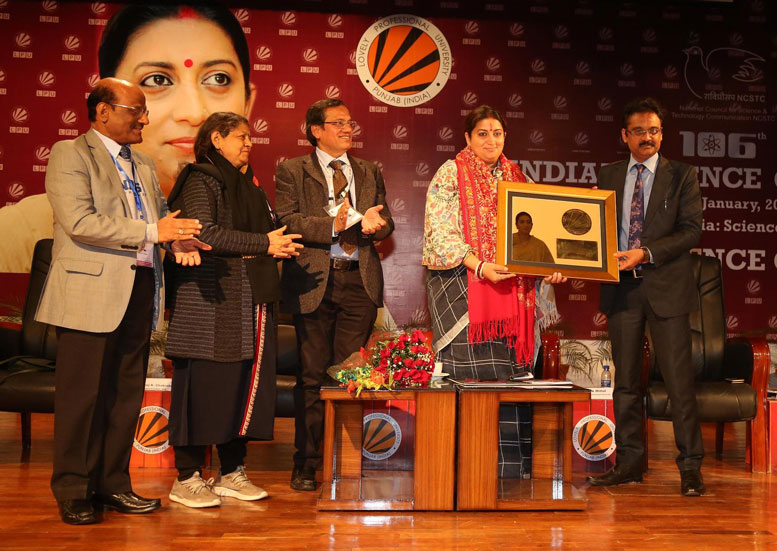 Also present on the occasion were General President Dr Manoj Kumar Chakrabarti, General Secretary (Scientific Activities) Prof. P.P. Mathur, LPU Chancellor Ashok Mittal, General President Chosen for ISC-2020 Prof. Vijay Laxmi Saxena, General Secretary (Membership Affairs) Prof. Gangadhar, and Dr Namisha Gupta, Scientist F, KIRAN Division, Department of Science and Technology.
It is highlighting that the Chief Guest of the valedictory Day on 6th January 2019 will be HRD Minister Prakash Javadekar.
Two-Day WSC-2019 is showcasing the contribution of women in Science, Technology and the Society. Here, renowned women scientists and leaders from Government, academia and industry who are decision makers are to deliver lectures and participate in panel discussions in the second phase of the WSC. Participants will be Dr. Purvi Mehta (Head of Asia for Agriculture, Bill and Melinda Gates Foundation); Ms. Suja Warrior (Head – CSR, Infosys), Dr. Neelima Gupta (Vice Chancellor, CSJM University, Kanpur); Ms. Mamta Saikia (COO, Bharti Foundation); Ms. Sushama Oza (Director- Strategy & Sustainability, Adani Foundation); Ms. Neelima Khaitan ( Head, CSR, Vedanta); Dr.Shakuntala Das (State University of New York) and more.